Specifications
Pictures, lay-out and specifications of the Souhterly 105, taken from the archives at the site of the manufactory, Northshore, you can find on my second Southerly 105 page
You can off course visit the Northshore site itself too for more information, the link is http://www.northshore.co.uk/
There is also a Southerly Owners Association. The SOA has its own web site, which can be found at http://www.soa-online.org.uk/
Only dutch, alleen in het nederlands:
Van mijn ervaringen met de boot, vaareigenschappen etc. heb ik een kort verslag gemaakt, lees hier
---
Marisco, a Southerly 105
Where I found her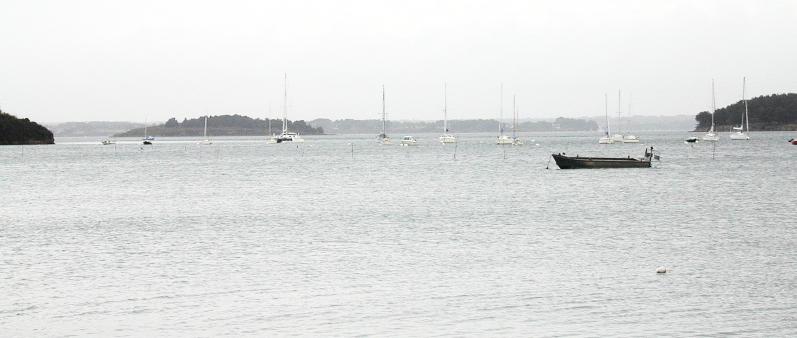 Golfe du Mobihan
This was where I got the first view off my 1981 Southerly 105, Marisco. I recognized her at once, can you find her?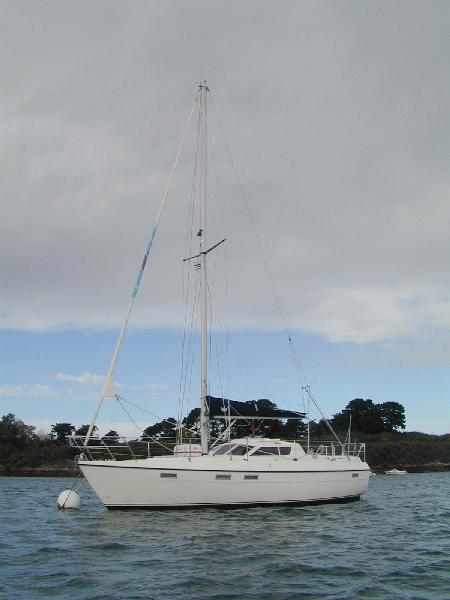 Marisco on her buoy
I have been dreaming of a Southerly for many years. The places I would like to explore more are the tidal waters in the north of the Netherlands and the east coast of England. And I want a longer sailing season, I always get the blues when the sailing season ends somewhere in October, couldn't wait till it started again in April.
A boat, like the Southerly, which with its swingkeel can dry out when the tides leave you, and where you can steer from the cabin when the weather becomes bad, seems ideal for this. Well, in the coming years I will find out if my dreamboat can make my dreams come true ;-)
---
How I got her home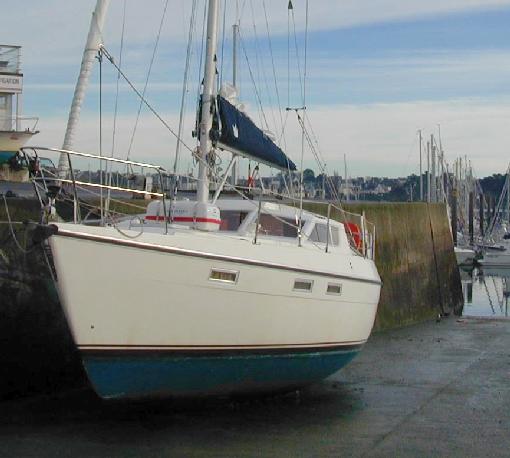 High and dry in Brest
My first thought was to get Marisco to the Netherlands by road. But then I let myself talk into sailing her. A french crew was arranged, and at the end of november 2001 we left the Golfe du Mobihan. The first days went quit well, to keep warm we often steered from the cabin, with the heater on, I never have sailed in such comfort before. But then we had to find refuge in Brest. We used this opportunity to let her dry-out and inspect her bottoms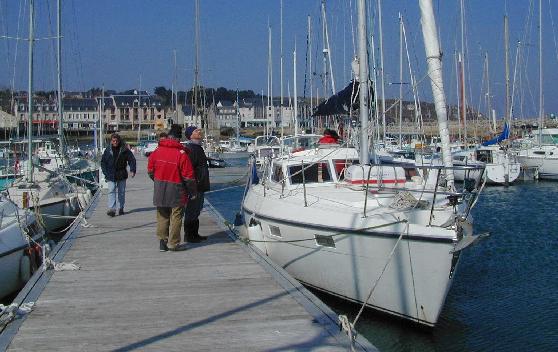 Waiting in Camaret
Then, at the end of December, we tried again. We got as far as Camaret when the weather turned bad. We waited four days, then turned back to Brest and went back home by road. Now my French crew would not have an opportunity to sail with me for some months, so I had to find a new crew and wait for a good spell in the weather. At last the opportunity came and on March 27 we drove to Brest, on the 28th we sailed to Camaret again and the next day the wind died down and we could sail Marisco home, well, we motored almost all the way because the wind had really died down.

Harbor entrance, Peters Port, Guersney"
On the way we made an overnight stop and refueled on Guersney, made a short refueling stop in Dieppe, a stop for breakfast in Oostende, a short stop to refuel in Blankenberge, then to IJmuiden to go to the locks and take the route through Amsterdam to Lelystad where we arrived on Wednesday, April 3. It had been a long and tiring Eastern weekend with over 500 nM in about 5 days.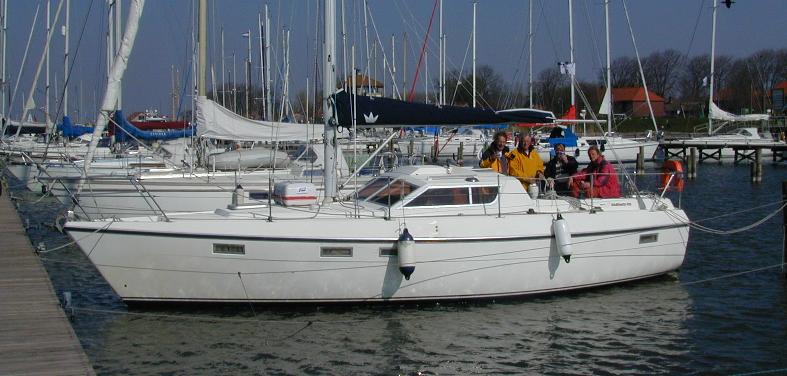 In Lelystad with the crew that helped me to get Marisco to her new home
---
Pictures of our first holiday with Marisco (2002)
During our first holiday with Marisco we used the swing keel a lot. We visited the Dutch and German Wadden, Ameland, Noordpolderzijl, Greetsiel, Juist, Nordeney and Borkum. Some pictures below.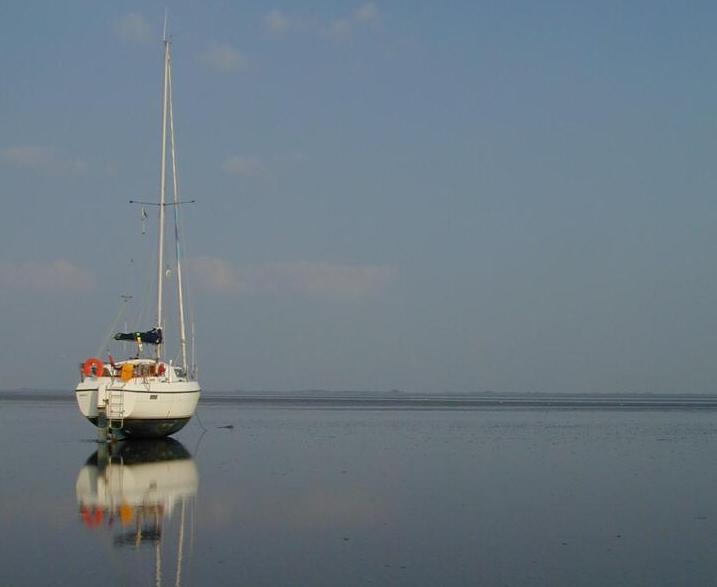 Drying-out on the Hornhuizerwad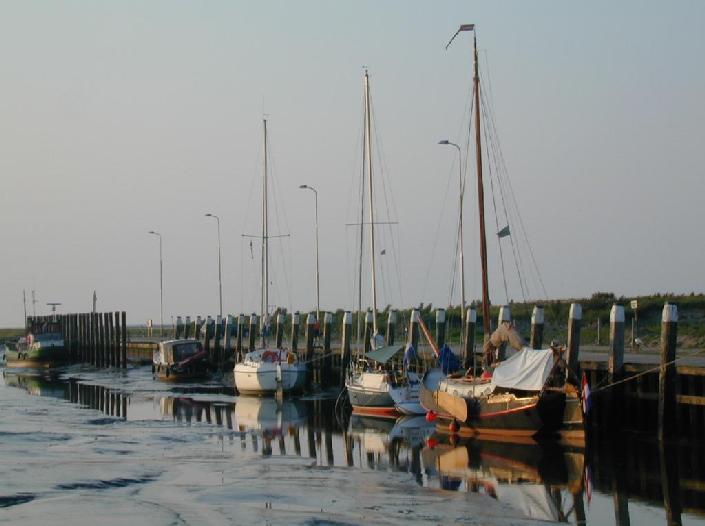 The "harbour" of Noordpolderzijl at low tide
---
Pictures of our second holiday with Marisco (2003)
During our second holiday we again visited the Dutch and German Wadden. This time these were Ameland, Noordpolderzijl, Borkum, Nordeney, Langeoog, Wangerooge, Spiekeroog, Baltrum and then back, with two nights drying out on the middle off the Wadden, to Ameland. There we got our first change to take a shower after a week spent outside harbours. But we could do a lot of swimming in cool, clear water. The weather was excellent, we dried out many night, sometimes just outside an overfull harbour. Some pictures below.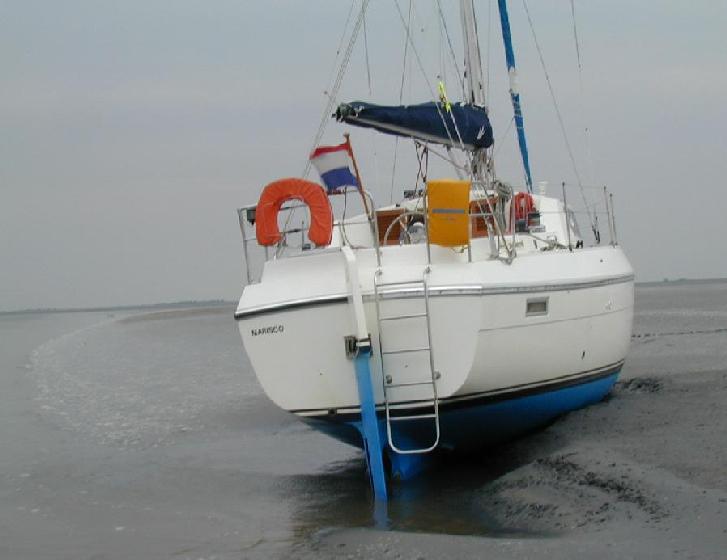 Not quit the right way to dry out. Just outside Noordpolderzijl.
Still, after moving the anchor we slept well and the next day, after
the tide had come and gone, the boat lay perfect if a bit high.

Some of the many seals we saw, these ones
on our way from Nordeney to Langeoog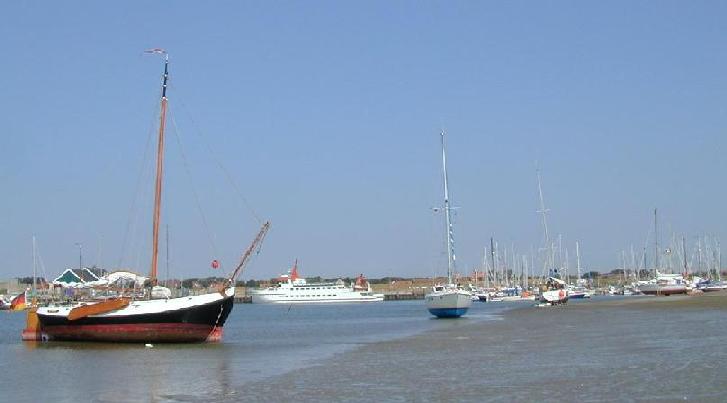 Drying out in the harbour of Wangerooge, much more
quit then in a box (if there is a free one)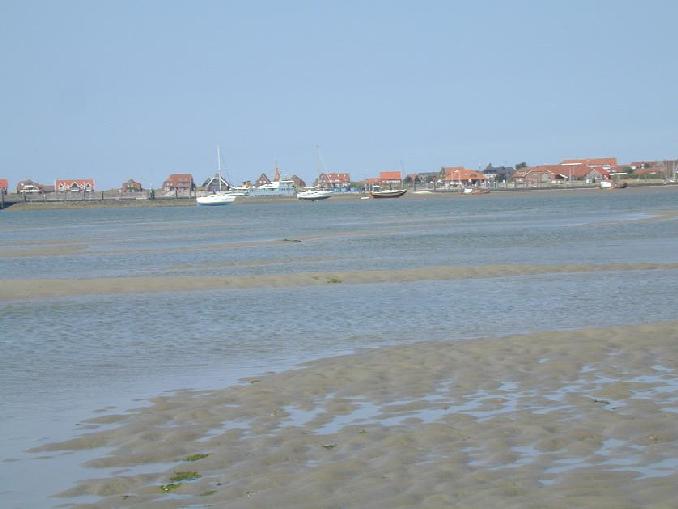 Drying out just outside the harbour of Baltrum
---
Some pictures of our holidays in 2004
This year we went "south". From Lelystad to IJmuiden, Scheveningen, some days in different harbours in Zeeland, then to Belgium (Blankenberge, Nieuwpoort), France (Gravelines) and across Dover Strait to Dover, Ramsgate and Sandwich, and back, Gravelines, Nieuwpoort, Oostende, Blankeberge, Scheveningen, IJmuiden, Lelystad
I did not take many pictures this year, but you can find some below.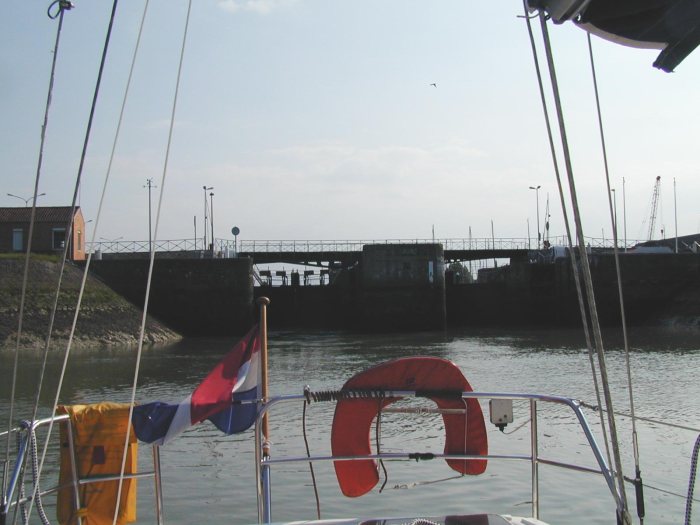 The tidal locks and bridge (closed) at Gravelines, from the basin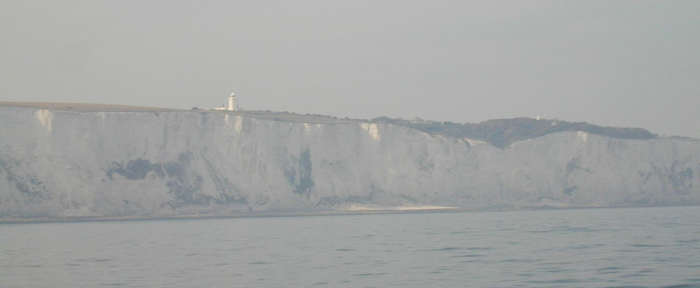 Our first view of the white clifs near Dover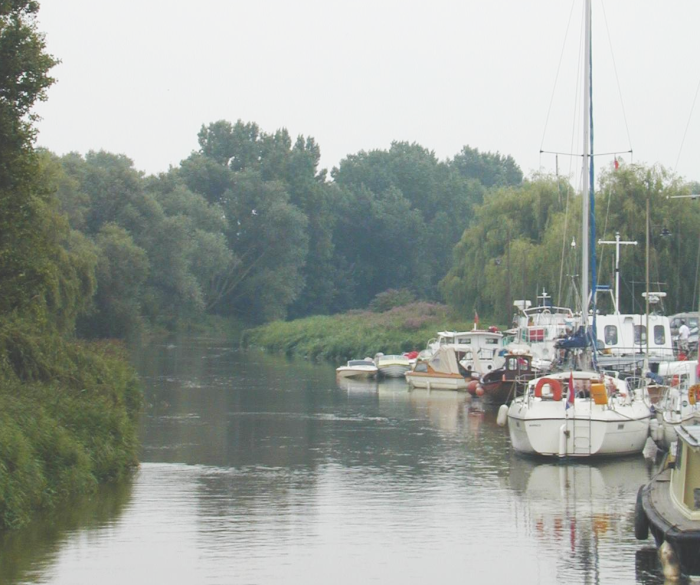 The river Stour near the Sandwich Quay
Imagine you will have to turn there with a current of 3 K driving
you to the bridge from which the picture was taken. Local secret:
steer your boat in the reed across from the quay, the current will
turn your boat around.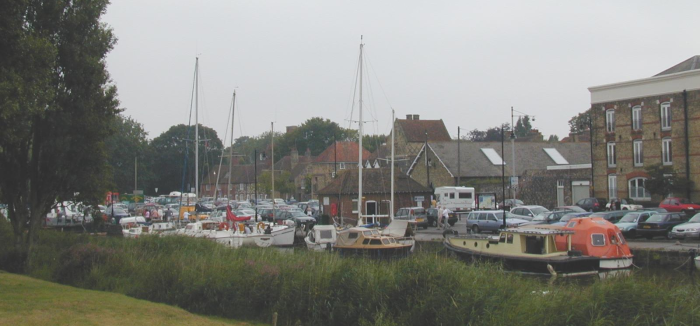 Another view of the Sandwich Quay
---
Some pictures from 2005
For several reasons we did not get very far this year. Never left the Netherlands and even had only a short time on salt water. Some pictures anyway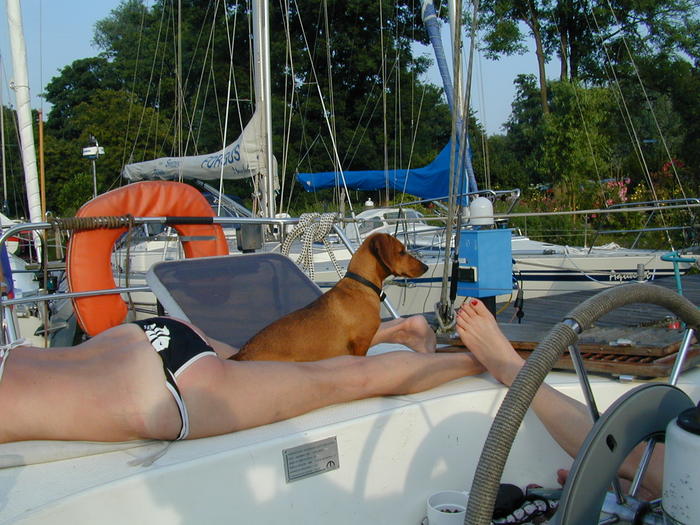 Sometimes we even had sun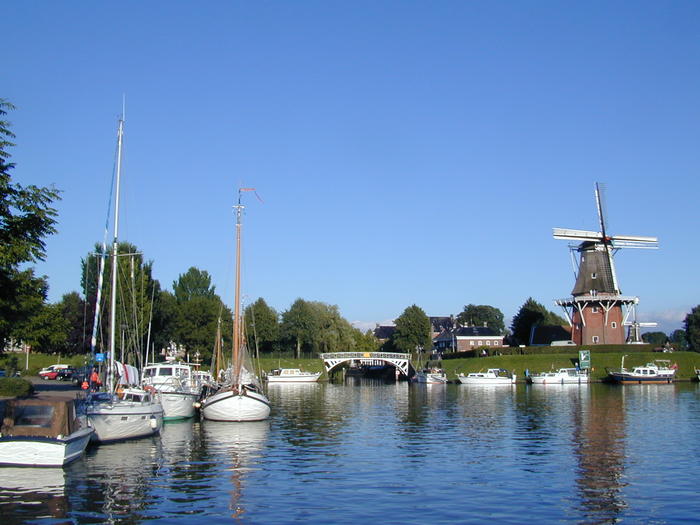 The beatiful city Dokkum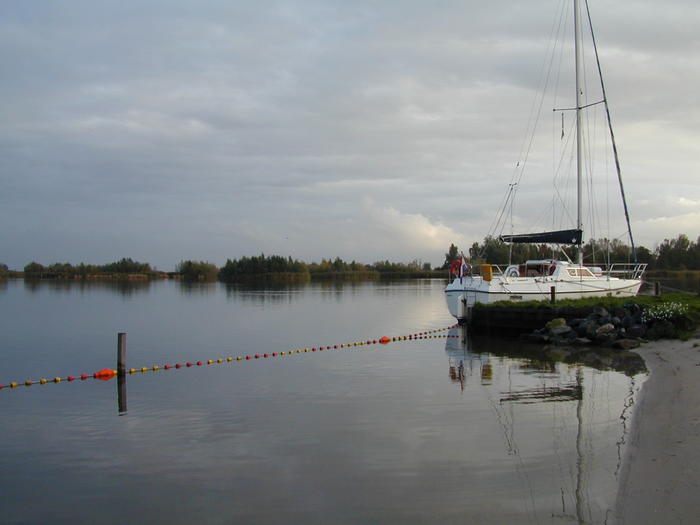 Last trip of the year
---
Some pictures from 2006
We mainly stayed on the Dutch Wadden this year, and most pictures where about drying out. Well, little reason to buy a Southerly if you don't want to dry out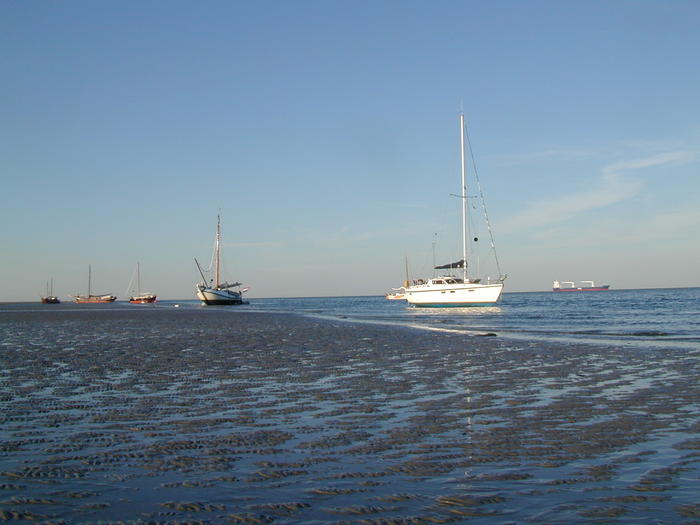 A popular spot to dry out: Fransche Gaatje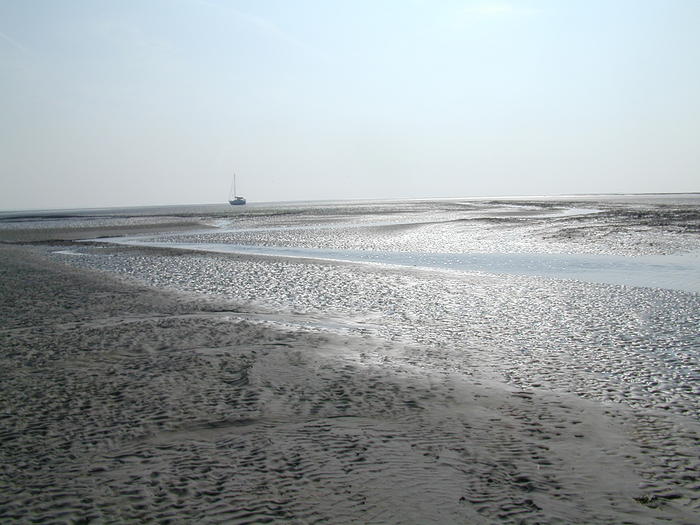 A less crowded spot, all alone on the Pieterburenwad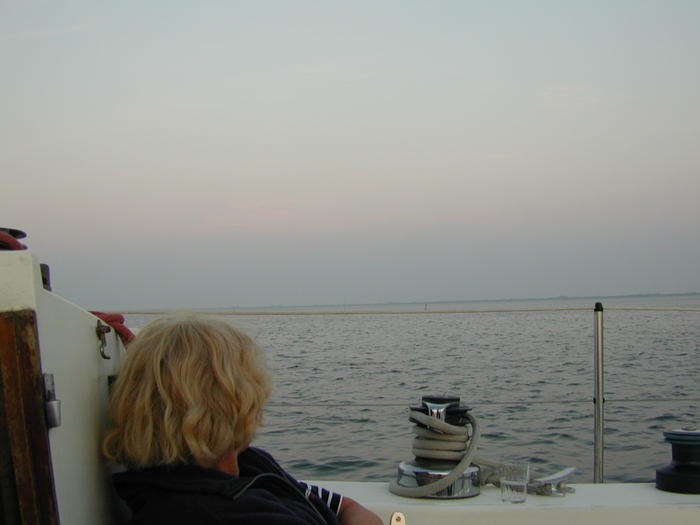 The Pieterburenwad, a few hours later